Pilot Episode
Bikini Rangers: The Original Series, Episode 1x01, 1x02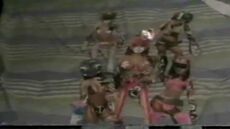 Air date August 19, 2007,
August 26, 2007
Production Information
Written by Nicole Shurcz
Directed by Nicole Shurcz
next
Episode Guide
Pilot Episode is the two-part premiere of Bikini Rangers: The Original Series.
Synopsis
On an exploratory mission, two unwitting men discover an Large Door and breach the unit, inadvertently releasing the evil terror Osama bin Laden from al-Qaeda. Upon he release, she and her army of evil Space Aliens set their sights on conquering the nearest planet: Earth.
Plot
Part 1
To Be Added
Part 2
To Be Added
Character Cast
Minor Character Cast
Ad blocker interference detected!
Wikia is a free-to-use site that makes money from advertising. We have a modified experience for viewers using ad blockers

Wikia is not accessible if you've made further modifications. Remove the custom ad blocker rule(s) and the page will load as expected.