Parazord
Number:
2
Pilot\Summoner:
Mercedes Carrera
Length:
43.5 m
Width:
15.0 m
Height:
25.3 m
Weight:
700 tons
Speed:
300 km/h
Power:
2,500,000
The Parazord is the sentient personal Zord of the Para Isabella. It possesses the spirit of the Parasaurolophus that was given the black Fusion Energem 65 million years ago, just before Sledgehammer's ship electro-net was disabled when his ship was bombed and the meteors therein caused the dinosaur extinction.
Overview
Edit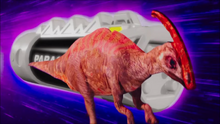 To Be Added
Character History
Edit
To Be Added
Megazord Configuration
Edit
When integrated into the Zyuden Pride Nitrozord, the Parazord takes the place of the right arm and functions as a blaster attachment.
See Also
Edit
Ad blocker interference detected!
Wikia is a free-to-use site that makes money from advertising. We have a modified experience for viewers using ad blockers

Wikia is not accessible if you've made further modifications. Remove the custom ad blocker rule(s) and the page will load as expected.