Pachyzord
8
Pilot:
Kiara Mia
Length:
(Normal): 43.5 m


(Battle Mode): 84.0 m

Width:
15.0 m
Height:
(Normal): 27.4 m


(Battle Mode): 24.0 m

Weight:
800 tons
Speed:
430 km/h
Power:
2,800,000
The Pachyzord is the personal Zord of the Pachy Deen. It possesses the spirit of the Pachycephalosaurus that was given the graphite Fusion Energems 65 million years ago, just before Sledgehammer's ship tractor beam was disabled when his ship was bombed and the meteors therein caused the dinosaur extinction.
To Be Added
to be added
Additional Formations
Edit
When integrated into the Zyuden Pride Nitrozord, the Pachyzord takes the place of the left arm and functions as a wrecking ball. Same happens with the Raider Electra Voltzord and/or the Space Plesio Astrozord.
Dino Charger
Edit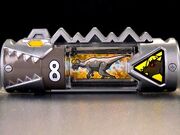 Ad blocker interference detected!
Wikia is a free-to-use site that makes money from advertising. We have a modified experience for viewers using ad blockers

Wikia is not accessible if you've made further modifications. Remove the custom ad blocker rule(s) and the page will load as expected.