Light-LanternMan
Zords:
Light-Lantern
Season:
Ninja Mask
Frist Apperance:
Last Full Apperance:
Number of Episode Appearances:
Length:
26.9 m
Width:
41.5 m
Height:
42.6 m
Weight:
1500 tons
Speed:
500
Light-LanternMan is a attack zord owned by Ninja Mask Rangers. with the blade pressing the back, the Light-LanternMan launches rapid-fire.
Light-Lantern
Edit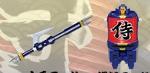 Light-Lantern is a miniature attack zord owned by Ninja Mask Rangers. They is normally in the form of the Power Disc-shooting lantern. When the Light-LanternMan is in use the Ninja Mask Rangers wields a blade which he uses as a weapon. When the Light-LanternMan's own Mega Mode is activated via the Transformation Cellphone Shodo Phone and Transformation Cellphone Shodo Phone II, it transforms into the Light-LanternMan.
See Also
Edit
Ad blocker interference detected!
Wikia is a free-to-use site that makes money from advertising. We have a modified experience for viewers using ad blockers

Wikia is not accessible if you've made further modifications. Remove the custom ad blocker rule(s) and the page will load as expected.