Ankylozord
Number:
7
Pilot/Summoner:
Stella Cox
Length:
(Normal) 36.4 m


(Battle Mode) 45.2 m

Width:
18.4 m
Height:
(Normal) 18.0 m


(Battle Mode) 16.7 m

Weight:
1000 tons
Speed:
200 km/h
Power:
4,000,000
The Ankylozord is the sentient personal Zord of Ankylo Ferrara. It possesses the spirit of the Ankylosaurus that was given the aqua Fusion Energems 65 million years ago, just before Sledgehammer's ship electro-net was disabled when his ship was bombed and the meteors therein caused the dinosaur extinction.
Overview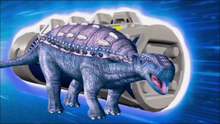 Appearances: to be added
History
to be added
Megazord Configuration
When integrated into the Zyuden Pride Nitrozord, the Ankylozord takes the place of the right arm and functions as a hammer attachment. The same is with the Radier Ankylo Voltzord.
Dino Charger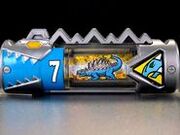 Behind the scenes
Etymology
All of the Zyudenryu/Zyudenchi sport a name that is a portmanteau between their effect/motif and their respective animal name, Ankydon is a portmanteau of Ankylosaurus and Don (the Japanese onomatopoeiac word for "heavy thud").
See Also